About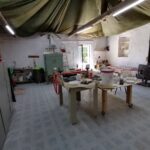 The artist
Its more than a decade that I'm involved in Ceramic Art. I started ceramics classes in Live Cities, a non profit organization in Athens and continued with a plethora of seminars and workshops along side with a lot of experiments and studies from the international bibliography.
Starting from 2017, my artwork is exhibitited every year in the annual Ceramics Art Exhibition in Athens.
I teach handbuilding and wheel throwing and run workshops in alternative firings (raku, naked raku, saggar, obvara etc), as well as advanced techniques.
From 2019 I share my living between Athens and Corfu, where I created a second ceramics studio with a gas fired kiln.
I love contemporary ceramics forms as well as I love traditional techniques from around the world. I love and work in technology too, I play and write music with my synthesizers, I run as president and CEO a non profit organization for culture, and I dream and act for a better world.
With all above in my head, its inevitable for my works in ceramics to be mostly conceptual. In addition, as a Greek, I try to include a touch of ancient or modern Greece, both in my sculptures and in my utilitarian ceramics.
The workshop
The workshop is located in Kavalouri village in Northern Corfu,  on your way to Roda. Look in the map included in 'Contact' page.
All the nessesary equipment and all kinds of materials is here to create anything i can imagine.
Inside the workshop
The fundamentals: A large table, the slab roller, the pottery wheel, the kilns, music, warmness and good lightning. All clays and materials are 'hidden' in cabinets.
I am still working to organize it,  its new, just moved from Athens…
The gas kiln
For my new workshop I decided to use a gas kiln. This type of kiln can be used to achieve reduction enviroment, in which many chinese, japanese and contemporary glaze recipes mature.
You can see the fire rising from the holes in the bottom of the kiln.
The raku kiln
A DIY kiln with ceramic fiber inside. I took into account every detail to make it functional and portable.
Handles, wheels, seperates in two pieces, the lid is tall enough so when I open the kiln I can grab the pieces more easily.
Portfolio
Some projects that represent the ideas, the recearch and the implementation of my work.
Ceramics workshops and courses in Corfu
Workshops and courses for beginners and advanced. A beautiful journey of creation and knowledge in ceramics art.

In English language.
Learn to use clay, this primitive material and give it the shape you want by knowing the forms, the decoration, the types of colors and specialized techniques. Our global and deep knowledge, the innovative method and the complete equipment, enable us to offer to you the best that exists today in the international world of Ceramic Art.
The lessons are addressed to all adults who want to acquire a complete knowledge of Ceramic Art, so that within a reasonable time can create their own original works, but also to painters who want to expand their creative horizon with three-dimensional works. The courses can be attended by those who want to work as amateurs, but also to people who want to take ceramic art seriously.
Registrations - Information: 
Gregory Saitas 6945902504
Ask questions within the form included in 'Contact' page
Beginners, Open Studio (advanced) | 80 € / month
(The cost of the materials and the firing are included in the price)
Blog
Thoughts, recipes, beautiful creations from my students and anything else

Your Content Here
In shop
I accept orders for high quality stoneware pottery sets for class restaurants and unique ceramic sculptures in any scale. Please feel free to drop a call or send an email.
Contact
————————————————
Gregory Saitas
Kavalouri, Corfu Island, Greece
Phone: +0030-2663032097
Mobile:+0030-6945902504
Email: gregory.saitas@gmail.com
Skype: gregory.saitas